BURN TUMMY FAT LIKE MAGIC, RESULT IN 5 DAYS - Perfect Body Tea
Click here for Latest Ankara Styles >> Read More
REMEMBER: In the Next Few Minutes I Will Share With You 10 Most EXCITING Places for Your Kinky Adventure! Place Number 5 Is Especially DANGEROUS! Tips Helped Over 22,000 Readers!
I bet you will agree with me that having sex in bedroom can be great fun and is the norm for most people! However, after some time each and every one of us will begin to ask: "What can I do to spice things up a little bit?"
A lot of people will choose to add toys or simply do a little dress up, but why should you go for the norm when you can have a very exciting love life?
Having intercourse in public places is a thrill and can really add a spark to your life like you have not experienced in years! However, before you dive into the top 10 most exciting places to have sex, you should realize that when caught, you can face serious legal issues. I will discuss tips about privacy and how to avoid legal fines and penalties in the end of this article so do not forget to check it out as well!
Your Ultimate List of Top 10 Public Places to Have Sex!!!
Place #1 – Fitting Room
Fitting rooms are becoming more and more popular among both young and older couples. The allure of someone possibly catching you is a big turn-on! The excitement of doing it right out in the open where anyone can possibly see is just too tempting.
However, here are my 3 tips you should always follow:
Avoid rooms with easy-to-see blinds.
Do not make both people's feet visible.
Keep noise to a minimum.
Women will often do better if they are sitting on the fitting room bench and men sit with their legs straight against the side of the wall. This provides the illusion that there is only a woman present and no one will know a man is there as well.
Pay attention! Try to not buy anything from the store and enter when the fitting room only when an attendant is not there!
Place #2 – Sauna
Saunas are great because they are usually empty. Club houses and community pools often have these facilities that go unused for weeks at a time!
The goal is to choose a sauna that is coed. If possible, lock the sauna or go there when you know no one will be present.
Once inside, all rules go out the window. You can decide to keep a bathing suits on if you are a woman so that you can sit on the man and he has easy access to your vagina.
If someone comes in, be quick to stand up and cover with a towel as if you were just getting up to leave. If done right, you will go unnoticed!
Pay attention: By the way, here are 3 real life experiences from people who tried this and are not that happy with the end result. Maybe it is not that a great idea after all.
Place #3 – Swimming Pool
Swimming pool sex is fun, but also far more complicated than most people think. Water (although being liquid) is not lubricating in the way you might think! Therefore, slipping into her may be a very big hassle.
BOOST YOUR SEX LIFE:
Because of this issue you will have to plan accordingly with these 3 tips:
Go to the pool when not many people are present.
Choose a position where it looks like you are just playing.
Use fountains as covering.
Keep in mind: Sliding shorts or bikini bottoms to the side is the best way for easy access that may still go unnoticed by others!
Place #4 – The Back Row of a Movie Theater
Surprisingly, this is a prime location for sex. You may not be able to go with full-blown vaginal penetration, but many people do. In the very least, you will be able to get away with oral for a man or masturbation for both of you.
There are a few key points you must know about sexual intercourse in the back row of a movie theater, including the fact that movie projectionist will see you and security members will make their rounds!
If you choose the back row for public intercourse, then you should definitely follow these tips:
Wait for security to come and check your tickets.
Make love with her sitting on your lap facing the screen.
Try to be silent and do not make it obvious with moaning.
Man needs to wear pants that are easy to pull to the side.
Women should have skirts and no panties!
Pay attention: Only in this way you can act as if she is merely sitting on you while both of you watch the movie!
Place #5 – Public Park
The park is a great public place for your "kinky time". Benches, bushes or even bathrooms allow you to have a lot of exciting sex in a discreet, yet public manner.
I still have 4 cool tips for having perfect "fun time" in parks:
Try going there at night.
Go to smaller locations.
Choose an area with ample bushes for covering.
Wear black if you need to run and hide from security.
Pay attention!!! You will not want to make love in a park where children are present – ever! This can result in sex predator charges that will ruin your life once and for all!
Place #6 – The Beach
Sex on the beach is both fun and messy. The best times to get into action are when people can't really see you or when it is not overly crowded.
A few tips to follow include:
Always bring a covering, such as a tent or blanket.
Go there at night (or late afternoon) if possible.
Choose an area that is not in the middle of the beach!
The rest is all up to you. You can have her on top, or you can do it on your sides for the utmost in privacy.
Word of advice: From experience, you will want to use sunscreen on your more sensitive areas to avoid sunburn!
Place #7 – Your Car
Intercourse in a car is fun and great (yet uncomfortable) experience. The best part is that you can normally get away with car sex as long as you are smart with place where you park.
Here are few tips that should minimize your chances of getting caught:
Doing it at night is best.
Leave the lights and music off.
Choose the backseat if possible.
Have blanket at your hand to cover yourself quickly if someone drives by!
SUVs are the absolute top for car sex.
Pay attention: Every position can be done in a vehicle and there is no reason not to try it. Pick a very quiet street for your fun and hope that no one drives by. If they do, lay down quickly and cover yourself with a blanket.
Place #8 – Between Stacks in a Library
Having sex in the library is very risky and very hard to pull off! You can choose to make love on the floor or with the man holding the women in the air. Both positions are fun and satisfying, but the choice is up to you!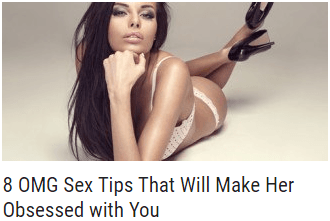 Here are few key points to remember:
Pick a building that is not busy.
Stay away from the entrance or front desk.
Go for a second or bottom floor if possible.
Make love as far in the back as you can go.
If no one is present and you have sex in the back of the library, you will have plenty of time to get up and act as if you are just looking for a book.
Pay attention: As always, skirts and athletic pants work best in these situations!
Place #9 – Try It in Elevator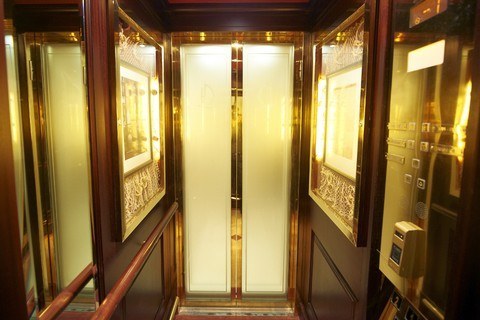 Doing kinky stuff in an elevator is on a lot of people's fantasy lists. This is a very difficult option as you will need to do a lot of preparation before jumping in the lift.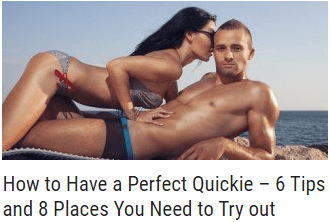 The best tips are:
Avoid big or busy buildings.
Go when all the personnel will be very busy.
Pull its alarm and test response time.
To really have "fun" in this place, you will need to pull the alarm so that the elevator stops! If you do this once, you will know the period until personnel will response so that you know just how much time you have to please each other.
Never stay in the building and choose one that you will never have to enter again. There may be cameras present, so you will want to face the wall and cover your face as much as possible.
My advice: Go for places with old school elevators that are without camera surveillance and can be stopped anywhere and anytime!
Place #10 – Roof of Building
Trust me that sex on the roof is exotic and will provide you with a thrill of a lifetime! The best part is you can scream, moan and try any position you want. The only difficulty is getting up to the top.
Warning! Each guy have to see this post before it is too late – 7 Critical Signs That She Might Be Cheating on You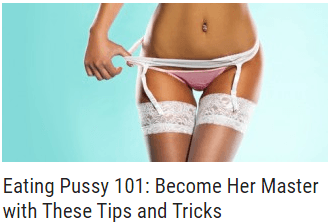 However, to make it even better experience, you should follow these tips:
Pick apartment buildings with a lack of security.
Jar the door open to ensure you do not get stuck there.
Look for fire exits on the top floor if you cannot find a door to the roof.
Bring a blanket and a cell phone just in case you get stuck.
Keep in mind: If there are any objects away from the door, you may be able to have intercourse behind them and use them as a precaution. Make sure if you hide behind an object that it is not a fan or vent. Fan can be dangerous to your health and vents may transfer your moaning throughout the building making everyone know that you are on the roof!
IMPORTANT: 6 Privacy Tips to Avoid Getting Caught & Penalized!!!
As you may have already guessed, getting caught having intercourse in places where you can be publicly seen can come with severe consequences. This is considered lewd conduct in most jurisdictions and can come with stiff fines and penalties.
Before you go out in public and decide to "start the fun", you need to ensure your privacy is kept intact!
The following tips will allow you to maintain your privacy and lower your chances of actually getting caught.
Always scout out your location first.
Do not make love in places that are well-lit.
Choose your time wisely.
Do not scream or moan loudly.
Wear dark clothes so that you can run or hide easily (if you have to).
Be very cautious of your surroundings.
Keep in mind: You want to ensure that the place you go for allows for privacy and that there are no cameras that can catch you in the act. The location and the way you conduct yourself are the two most important aspects of having sex discreetly in public.
5 AWESOME Resources to BOOST Your Love Life
Related
BURN TUMMY FAT LIKE MAGIC, RESULT IN 5 DAYS - Perfect Body Tea