REMEMBER: These Pick Up Lines Are Really EFFECTIVE. They May Cause POWERFUL Reaction! Do Not ABUSE Them! These Tips Helped Over 8,700 Readers! 20 AWESOME Lines Below!
Any single guy will tell you that picking up women is never easy. A clever line may get her attention, but those are far and few between. Some guys have better luck just saying "hi" and introducing themselves.
The key to approaching a woman has nothing to do with being clever or even personable. The key is to be amusing. That's exactly where these 20 funny pick-up lines come in.
Not only will they impress her, they will get her interested in you too.
20 Funny Pick Up Lines to Make Her Laugh
1. "Nice shoes! Want to make your parents proud?"
2. "I'm not a photographer, but I can picture us together."
3. "Do you happen to have a Band-Aid? I hurt my leg when I fell for you."
4. "You are so sweet, you're giving me a toothache."
5. "Do you see my friend over there? He wants to know if you think I'm cute."
6. "Are you lost sweetheart? Heaven is a long way from here."
7. "Something is wrong with my cell phone. Your number isn't in it."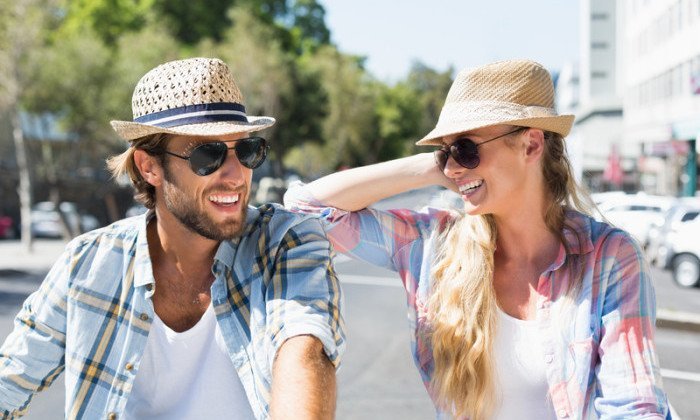 8. "Excuse me, but I think you have something in your eye. Nope, it's just a sparkle."
9. "Your hand looks heavy. Let me hold it for you."
10. "If you were a McDonald's hamburger, you would be McGorgeous!"
11. "No wonder why the sky is gray today. All of the blue is in your eyes."
12. "Kiss me if you think I'm mistaken, but dinosaurs still exist – right?"
13. "If I had a nickel for every time I saw someone as beautiful as you, I'd only have 5 cents."
14. "If I had a star for every single time you made me smile, I would have an entire galaxy in the palm of my hand."
15. "Do you happen to have a map? I seem to have gotten lost in your eyes."
16. "You are so beautiful that you made me forget my pick up line."
17. "I know what you are thinking, and you're totally wrong. You do stand a chance with me."
18. "Can I borrow your phone? I just want to call your mom and thank her."
19. "How much does a polar bear weight? Just enough to break the ice."
20. "Here I am. What are your other two wishes?"
CLICK HERE for 20 OMG DIRTY Pick Up Lines
 CLICK HERE for 25 CHEESY Lines
Why You Need to Know These
What most men don't realize is that women are just as nervous and intimidated as they are about meeting new people. A cheesy line will only make her feel even more uncomfortable.
Clever ones may work, but it takes skill to pull them off. However, funny pick-up open airs break the ice. They make both of you laugh, and they make the situation less awkward.
Where to Find More Inspiration
If you are looking for even more stuff to use, try the following places online:
Reddit.com – This popular Reddit thread has more than 500 comments and plenty of great texts to choose from. Most of these have been tried and tested out in the wild, but fair warning – not all of them are going to actually work. They will, however, make you laugh until you cry.
TinderLines.com – This site is a collection of awesomely funny texts. Some are cheesy, some are hilarious and some are just creepy.
Tumblr.com – Just search for "funny pick up lines" on Tumblr, and you will find a fair amount of inspiration you can use. The only catch is that you will need to create a free account in order to see all of the results.
Twitter.com – Twitter is an awesome place to discover new and creative ones. Twitter user @PickUp_Lines101 tweets some great stuff that you can use for fun or to seriously approach the girl of your dreams.
.
.
Follow Pheebs Clothings for Turkey Wears on Instagram
BURN TUMMY FAT LIKE MAGIC, RESULT IN 5 DAYS - Perfect Body Tea