REMEMBER: These TIPS Are Really POWERFUL. They May Make Her ADDICTED to You! Do Not ABUSE Them! Tip Number 4 Is AWESOME! These Strategies Helped Over 58,000 Readers!
Having a quickie can be an amazing experience, but many people do not know how to move a good one into an amazing 5 minutes of passion!
While sex shouldn't be complicated, everything has to be just perfect to make the pure pleasure of a quick passionate intercourse reach its maximum potential.
Whether she is merely a fling or someone you plan on spending your life with, we have 6 great tips and 8 top places that will make hers and your experience much, much more pleasurable.
6 Tips to Make a Quickie an Amazing Experience
Tip #1 – Arouse Her with Sexting or Soft Dirty Talk
First things first, you need to get her going. This means that you need to start getting her thinking about sex before you rip off her clothes and jump on top of her.
This can be done in a variety of ways, but the following two seem to work the best:
Sexting – This doesn't need to involve pictures. Just talk and write about how you want her and what you want to do to her (See a great guide on sexting written by James Buzinko).
Dirty talk – This seems to work best when it is soft and sensual. You don't need to start screaming what you want to do to her. Instead, whisper what you want to do to her in her ear.
Extra advice: If possible, do this in public where anyone can hear, but say it quietly enough so that no one will. This will bring the arousal factor to a whole new level. For more great dirty talk tips and how to do this see the following article.
Tip #2 – Wear Proper Clothes
Did you know there are jeans with several buttons even for men? This gets in the way and makes a quickie a little awkward in the beginning. Instead, you want to wear the proper clothes.
This is a tip for him and her to follow. If you are going to have a risqué one in the car or outside, you will want to have:
Men – Loose fitting jeans. Athletic or sweat pants are also a viable option.
Women – The difficult nature of this experience really exists for ladies. As a woman, you will want to have a skirt or dress.
Pay attention! Wearing no panties is an option as well. However, many people consider this a really unhygienic option!
Tip #3 – Focus on Her & Make Her Wet Quickly
You want to focus on her so that she is all lubed up and ready to go once you try to insert yourself into her. This is often overlooked by most men as it takes more time for a woman to get in the mood.
You will need to make her wet and do so quickly. How can you do this? Focus on all her erogenous zones:
Kiss her neck & lower back!
Kiss her inner thigh!
Rub her pussy!
Talk dirty to her!
Keep in mind: You need to arouse her and doing so will make her wet and ready to go. Our 5th tip will cover this perfectly so that you can get her going and never have to worry about her being horny again.
Tip #4 – Keep Some Clothes on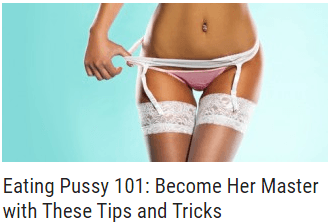 Keeping these on is essential for a quickie. After all, this is not meant to be like normal sex – right?
So, instead of stripping until you are fully naked, keep some clothes on so that you can get up and continue on your way once the two of you are done.
A few key clothing items you can leave on yourself are shirts, bras, shoes, socks, pants, dresses and skirts.
Remember, you can pull most pants, underwear, and panties to the side to have a "fun time". Not only is this a lot of fun, but it will feel really good too!
Note: If you are planning on having a quickie in public places, keep as many clothes on as possible. If you are doing this in your home, you can take off your bottoms to make the experience more pleasurable.
Tip #5 – Stimulate All Her Senses at Once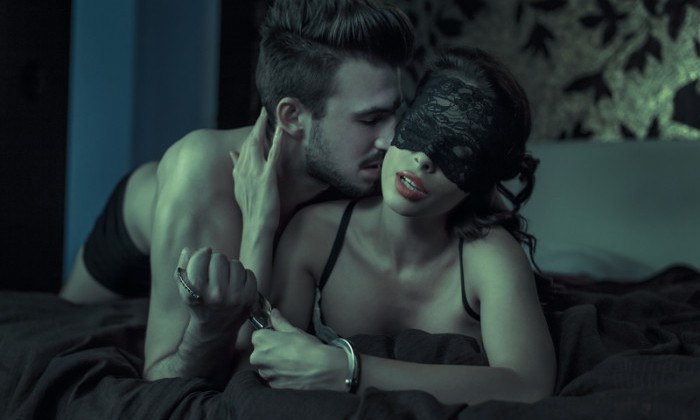 There are a lot of senses within the human body that can make sex better. Stimulating these can mean the difference between a great and a mediocre time. The more of these are stimulated, the more intense the intercourse will be.
Let's take a look at the senses that you can focus on and engage:
Sight – Beautiful scenery, your body or a naughty video may stimulate her sight.
Hearing – Music, soft dirty-talk, and gentle words will deal her hearing sense as well as moans.
Taste – A candy chocolate works perfectly for taste.
Touching – Kissing her neck and rubbing her vagina will engage the touch.
Smell – A great smelling cologne will work perfectly for her sense of smell.
Keep in mind: You know her best places, but these 5, when all engaged, will make for an unforgettable evening!
Tip #6 – Pick a Good Place
Finally, you must pick a good place to get it on. This can be anywhere of your choosing, but the following locations seem to work best for most couples.
Backseat of a car!
Front lawn!
On the porch or patio!
In a movie theater!
In the park!
Please note: The place that you choose is up to you. Some couples would rather do it on the kitchen table or in the bedroom while others would rather have a quickie in a movie theater or on top of their roof.
Top 8 Places to Have a Quickie
Place #1 – The Fitting Room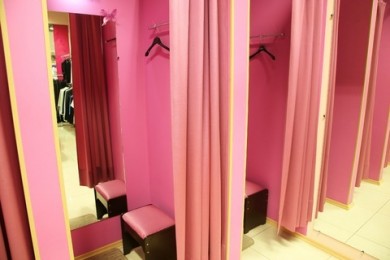 If you're willing to venture out of the bedroom, a quickie in the fitting room can be exhilarating and naughty. This one can be a little tricky to pull off, and you'll need to be as discreet as possible.
IMPROVE YOUR SEX SKILLS:
It's best to sneak into a man's dressing room as people are more likely to notice (and sneer) at a guy entering a woman's place. The top position to use in this place is a standing doggy.
Keep in mind: If the room has a chair instead of a bench, you can try cowgirl or reverse one. Just keep her feet hidden if the bottom of the door is open.
Place #2 – The Desk
Desks are the ideal place to have a quick passionate love, and they're the perfect height for some hot and steamy action.
No matter whether you're at home or in your private office at work, you can throw everything off the desk, throw her down on top and go to town.
There are a couple of positions that will work well for desks:
Doggy style
Sneak-a-peak – Have her lay on her back on top of the table with her butt hanging just off the edge. Hold onto her thighs or place her feet on your shoulders.
Lying down scissors – Have her lay down on her back on top of it. Cross her legs and have one foot rest on each shoulder. This maximizes pleasure for both of you by making it easier to stimulate her clitoris and making her feel tighter on your member.
Leg wrap – Have her sit at the edge of the table and wrap her legs around you.
Please note: Most people find that doggy style or the sneak-a-peak works best. It's easier to get into these and both provide easy access. Remember – this should be quick. You don't want to waste time trying to get into the position and then to finagle your way inside.
Place #3 – The Closet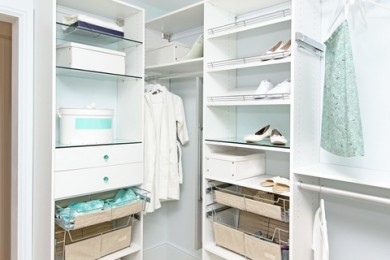 This is a discreet and fun location to have a quick pleasure time. Try it in a closet at work, while you're out running errands or in any public location that offers easy access to it.
If you choose an open place, make sure that security is lax and that there are no cameras in sight.
Please note: Closet quickies are great because you have so many options, and depending on the type of a room you're in, you can be as loud as you want. The best positions to try are a cowgirl on the floor, missionary (even standing), spooning, doggy style (even standing) or ballet dancer!
Place #4 – The Beach & Ocean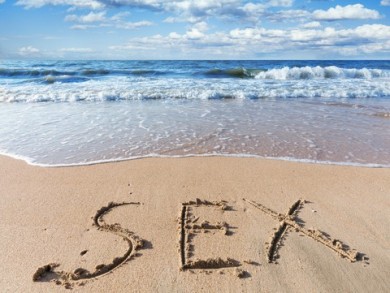 Sex on the beach can be incredibly romantic, especially if you're on an exotic island. The scenery is beautiful and the atmosphere is relaxed.
The biggest problem with having a quickie on the beach is getting caught. You will need to time it just right and pick the proper spot.
Here are few tips you should keep in mind:
Choose a time when this place is mostly empty. Early mornings or evenings work best. If you wait until after dark, you're far less likely to get caught.
If the beach has a boardwalk, you can use it as cover. Just keep in mind that people will be walking on the boards above you. Be quiet and discreet.
Make sure that you have suitable clothes. Bathing suits allow for easy access. If this is not an option, you can have her wear a skirt.
Bring a towel so you can cover up quickly if you have to.
Please note: To be as discreet as possible, it's best to have her sit on your lap. You can be a bit more adventurous if you're sure that you won't get caught, but you definitely don't want to be found with your pants around your ankles. Keep it simple.
Place #5 – Your Car
Are you up for a little car sex? These quickies are great because all you have to do is pull over and go to town.
The trick to successful car sex is to pick the right location. Don't stop onto the side of the road on a major highway and expect to have intercourse in your vehicle without getting caught.
Look for roads that don't get a lot of traffic. Residential neighborhoods are great for this, but you need to be very careful.
It's best to wait until after dark, so others cannot see directly into your car. Fewer people will be outside late at night, making it much more difficult to get caught.
Please note: What is more, finding a good position can be another challenge. The backseat will give you more room to try different poses. Cowgirl (her on top) is the easiest one to pull off for both the back- and the front seat. If you have an SUV or a roomy backseat, you can try missionary or doggy style.
Place #6 – The Shower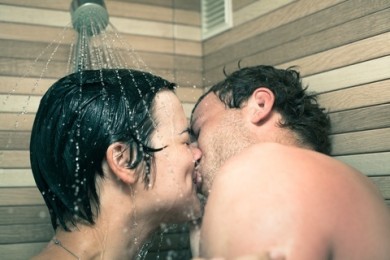 What better place to have a quickie than in the shower? It's romantic, steamy, and both of you are already in your birthday suits.
Shower sex may seem easy to pull off, but the water really isn't as good of a lubricant as you think.
Make sure that there's plenty of foreplay to get her going and make it easier to get inside.
Please note: Try positions such as standing doggy, standing missionary, over the edge or in the backdoor. When you have sex in the shower, you can be as loud and wild as you want. Just be careful not to slip!
Place #7 – The Clean Restroom
Bathroom sex is risky, but it can be incredibly hot. If you're planning on doing this in a public place, bring her into the men's bathroom. You'll wind up making a scene if you try to sneak into a woman's cabin.
Remember that people can see under the stall, so you want to keep her feet out of view. The best positions for this occasion are standing doggy, standing missionary and seated cowgirl!
Please note: Just make sure that you choose a clean place! Don't try this in the restroom of a dive bar or sleazy club.
Place #8 – Your Office
There's no better way to improve productivity than with a little mid-day quickie. Making passionate love in the office can be risky too, but it's so worth it. Visit her – or have her visit you.
Meet for lunch or schedule a meeting – whatever it takes to grab some alone time together.
For office sex to work, you need to be as discreet as possible. The biggest issue is that most of these have a lot of windows. Make sure that you close the blinds, lock the door and let others know that you're on break. The last thing you want is one of your co-workers or your boss to walk in mid-quickie.
Keep in mind: The great thing about an office is that you have plenty of options to choose from. You can do it doggy style over the side of the desk, try cowgirl sitting in a chair or missionary position on the couch. Just remember to keep your voice down to avoid getting caught.
Further Resources
Related
Follow Pheebs Clothings for Turkey Wears on Instagram
BURN TUMMY FAT LIKE MAGIC, RESULT IN 5 DAYS - Perfect Body Tea