Click here for Latest Ankara Styles >> Read More
August 22 of every year is regarded as the World Jollof Rice Day. It's a day that is set aside to celebrate this very wonderful cuisine.
Jollof rice is a common dish amongst Africans. Different African countries prepare it in their own special way using ingredients most available to them.
In Nigeria, the meal has become a major delicacy at almost every occasion you attend. A Nigerian event is tagged incomplete if this mouth watering dish is not available, specially among the younger generation.
Also See: Countries With The Healthiest Diet, Nigerian (WA) Ranks Highest
Here are some facts about this amazing cuisine.
Do you know the cuisine now called Jollof rice originated  from the Wolof tribe of the Gambia and Senegal?
Jollof rice was originally eaten with fish, unlike now that its normal to find jollof rice as chicken garnished.
The major ingredients for the meal are the tomato sauce, hence giving the rice  its redness.
I am so sure you don't know that palm oil and tea-bush leaves are also part of the ingredients used for the preparation of this rice.
Jollof rice was never eaten in the morning but in the evenings
There is a dance known as the 'jollof rice dance": it is  done in honour of the cuisine.
There are two  kinds of Jollof rice – the party jollof and the regular jollof . The difference between the two is that the party rice is usually over spiced with lots of condiments to look colorful and tasty. That one actually tastes better…If you doubt me ask  children.
The bottom( bottom pot) is usually more delicious than the top.
It  is better eaten when hot, steaming hot I mean. Try it and thank me later.
Also See: How To Prepare The Nigerian Jollof Rice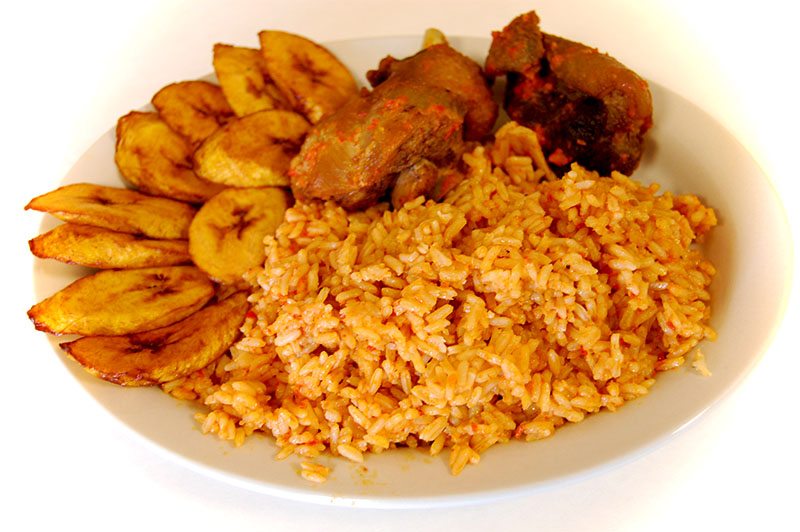 Ensure you celebrate the day by cooking this cusine  and enjoying it with some friends and family members.